Your Ford deserves the best service in Centre County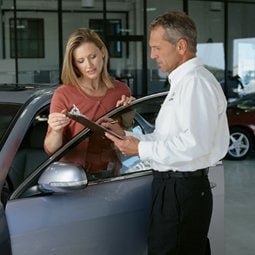 One of the reasons you decided to purchase a Ford product is because of both brands' reputation for reliability. That, of course, is why it's so important to give your Ford the service it was designed for at State College Ford in State College, PA. Our knowledgeable technicians work on Ford every day, so they know just what every model needs to run longer and stronger around Bellefonte PA, Philipsburg PA, Huntingdon PA, and Lewistown PA.
You might not be aware of all we offer to keep your Ford or any other vehicle performing well. So please allow us to give you a quick look at some of the repair and maintenance services we have available. Have you noticed your brakes seem to be sending out signals that they might need attention? Do you hear squeaking or even vibrating or shaking when you step on the pedal? We can tell you if there's an issue in this important safety function.
We also offer a variety of other important services like repairs to your suspension or steering system. Getting tepid response from your AC these days? Is your "Check Engine" light appearing on your dashboard? We can diagnose and repair each of those items with proven automotive expertise. Ask us to check your belts and hoses the next time you visit, because you don't want those failing you out on the highway. Of course, we offer much more as well.
The right maintenance can help you visit us less often
We are, of course, delighted to see you any time, but one of our primary objectives is to help you avoid seeing us for expensive repairs. That's the whole purpose of routine maintenance, to make sure your vehicle is less likely to need those repairs. A good example is a basic oil change. Ford advises customers to get oil changed every 7,500 miles, or within six months if you don't drive a lot of miles. Clean, fresh oil helps your engine perform well without battling dirt and grime.
Ask us to balance and rotate your tires to avoid uneven tire wear. It not only extends the life of your tires but helps prevent a hazardous blowout. We can also provide other valuable maintenance services like flushing and replenishing your coolant, transmission fluid and brake fluid. We can lubricate key components, clean your battery and more. Ask us for a list of key maintenance services and how often you need to do them.
Benefit from our knowledgeable specialists and genuine Ford parts
The technicians in our Service Center at State College Ford aren't just generally knowledgeable. They have specific Ford factory training, so they are like the physicians of the car business. They know your Ford car, truck or SUV intimately and make service assessments precisely. Our genuine Ford parts are just as precise, in terms of fitting your vehicle perfectly.
Whatever you drive, it will thrive at our Service Center
You've chosen Ford quality for your vehicle, so it just makes sense to choose the same high quality for service. Let us give you our best for your Ford F-150 pickup, Ford Explorer, Escape or Expedition SUV or your iconic Ford Mustang. Go online or just give us a call and schedule the maintenance or repair work your vehicle needs. Feel free to browse our new Ford models, or our used models, and, if appropriate, apply for financing online. We look forward to seeing you soon at State College Ford in State College, PA.