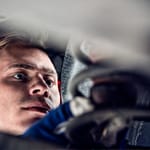 Suspension Maximizes Traction and Absorbs Bumps
The suspension consists of parts like shocks, springs, control arms, and even the tires that carry the wheel and support the weight of the vehicle. Each car has a different suspension design, and some suspension systems are more complex than others. Here are a few suspension components explained.
Macpherson Strut
The Macpherson strut is one of the most commonly used suspension parts on cars today, and it consists of a shock placed inside of a coil spring. You'll find that most cars have Macpherson struts for the front-end suspension.
Leaf Springs
Leaf springs are a combination of laminated metal slabs that curve and mount on both sides of the rear axle. Most trucks and commercial vans have leaf springs for the rear suspension.
Control Arms
Control arms are typically used on the front of cars, and their functions are to house a Macpherson strut or spring, connect the wheel with the subframe, and move up and down with the rest of the suspension system.