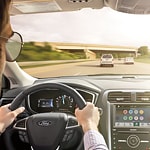 If you are looking for a mid-size sedan, then the popular Ford Fusion may be what you are looking for. This is the sedan that offers one of the top performance numbers of any affordable mid-size vehicle on the road. Here's a look at what the Ford Fusion has to offer.
The Fusion gives you the option of two gas-powered EcoBoost engines. You can opt for the more powerful 2.0-liter EcoBoost engine and get up to 245 horsepower with a 0 to 60 mile per hour time of just 5.8 seconds. The Fusion is also available with a hybrid and hybrid plug-in system. Each of these hybrid systems delivers a combined 42 mile per gallon. Overall, the Ford Fusion gives you more options when it comes to powertrain performance.
Get into a brand new Ford Fusion today at State College Ford. We are ready to make you a top money-saving deal. Visit us now.